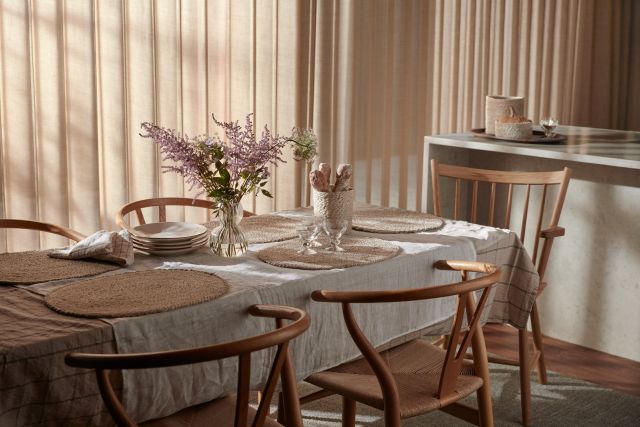 Inspiration
Natural
placemats
Natural placemats – elegant, timeless & sustainable.
The set table is often in focus here with us at Dixie. Our goal is to make the dining table a welcoming place to enjoy all kinds of meals, large and small, for everyday life and parties. We want to help you create an inviting feeling that brings people together, and encourages laughter, lively conversations, as well as quiet, peaceful moments all by yourself.
A great way to create that caring, cozy, close-to-nature feeling is to dress the table with timelessly elegant natural placemats. Exclusive handmade placemats of carefully selected material, where each one is unique and has its own story to tell.
We're extra fond of jute, seagrass and linen, and in this article it's the first two materials that play the lead part. Our different jute placemats are gathered in the Elin and Ella collections, and Emil is the name that our seagrass placemats carries. These collections not only come in different color variations and shades – they also come in several designs and shapes to suit both different preferences and occasions, as well as the shape of your table.
see all placemats
Relaxed or elegantly sober
Rustic, relaxed, minimalistic, or seasonal? Whatever feels right at the moment, you can transform the expression in your table setting with simple means – one thing remains and works in all situations – the placemat in natural materials.
Our beautiful handmade placemats of jute and seagrass come with high quality and a naturally luxurious feeling, where each placemat is crafted with great care.
With their natural color changes in sober shades as a base, you have endless possibilities to vary and renew your table setting to suit all contexts.
For more inspiration on how you can create a beautiful table setting with simple means, we recommend our article Table setting tips.
Get in shape
So, what shape should you choose? First and foremost you should go with what you prefer, but some are particularly well suited to different dining table shapes.
RECTANGULAR PLACEMATS
The most traditional shape of a placemat is rectangular, which looks great on a rectangular or square table. The placemat enhances a symmetric impression together with the straight lines of the table. But that doesn't mean strict and dull. The soft, dynamic natural material deserves all the praise for that.
ROUND PLACEMATS
Let's take a closer look at the widely popular round shaped placemat. We see that it fits nicely with all types of tables, including the round and elliptical shapes that are challenging from a placemat perspective. In the case of a rectangular table, the deviance with a round shape truly brings an exciting expression.
oval PLACEMATS
A newer and increasingly common shape is the oval placemat, that works best for square and elliptical dining tables. This also gives a new dimension to the table setting thanks to its rounded shape and soft lined expression.
Ella – jute placemats
The products in our popular placemat collection "Ella" are handmade from machine-spun jute yarn. They are adorned with decorative jute stitches in a zigzag pattern, which gives a distinctive look that is so appreciated by many. The unique feeling is emphasized by the fact that we mix colored and natural jute yarn. Among our natural color combinations, you'll find everything from darker tones in brownish-black to light natural white.
These placemats are available in both round and oval shapes – all reversible – and thanks to their stylish appearance, they are perfect for all seasons and occasions.
Ella as coasters, rugs & bags
In two of our color schemes, namely black/natural and white/natural, you will also find matching coasters in sets of six, where the round mini-storage-box is perfect for your bottled beverage. But that's not all! Ella is also available as rugs and bags, e.g. acting as your perfect beach bag!
discover collection ella
Elin – jute placemats
Elin is our handmade collection of soft braided or twisted placemats and jute baskets that take your table setting to whole new levels.
The Elin collection is also made of jute yarn, but unlike Ella, the yarn is hand-spun, which gives a soft, shiny and luxurious expression. Here, we use natural-colored or bleached jute, sometimes combined. Part of this range is made in a sober natural grey twisted binding, adding yet another dimension to the look.
These reversible placemats are hand-woven into a classic round or oval shape that fits most dining table shapes.
The baskets in the sober Elin collection are available in different sizes and designs, with or without lids. They are great for all purposes, including being a beautiful part of your table setting. The aim is for all products in the collection to harmonize and complement each other, both in terms of its natural shades and soft shapes.
EXPLORE COLLECTION elin
Emil – seagrass placemats
Emil is a collection of handmade products of durable seagrass with a discreet and classic expression – so obvious, so loved, and always right.
Something extra exciting about the Emil collection is that you can choose an all-natural design or a style with a decorative edging of colored jute yarn in black or white. These give a different and distinct expression to your table setting.
The placemats are available in rectangular, round, and some in oval shapes, so anything is possible here. Reversible? Of course! The Emil collection also includes matching table baskets in a variety of shapes & sizes, with and without lids. Don't miss the matching coasters that give that complete look to you table setting.
read more about collection EMIL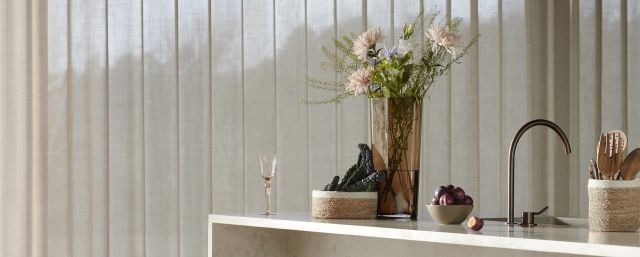 Mix or match?
As already mentioned, we offer a variety of lovely and durable baskets of natural materials to enhance your table setting. You have them to place bread, small dishes, and snacks or for a flower pot or vase on the table. It's close at hand to consistently use the same material and shade as your selected placemats, which will create a homogenous and harmonious feel.
However, mixing our collections or natural materials adds another dimension to the table setting. We like to mix seaweed with jute and twisted jute with braided jute, which gives an exciting but still cohesive expression. Give it a try and see what you like best!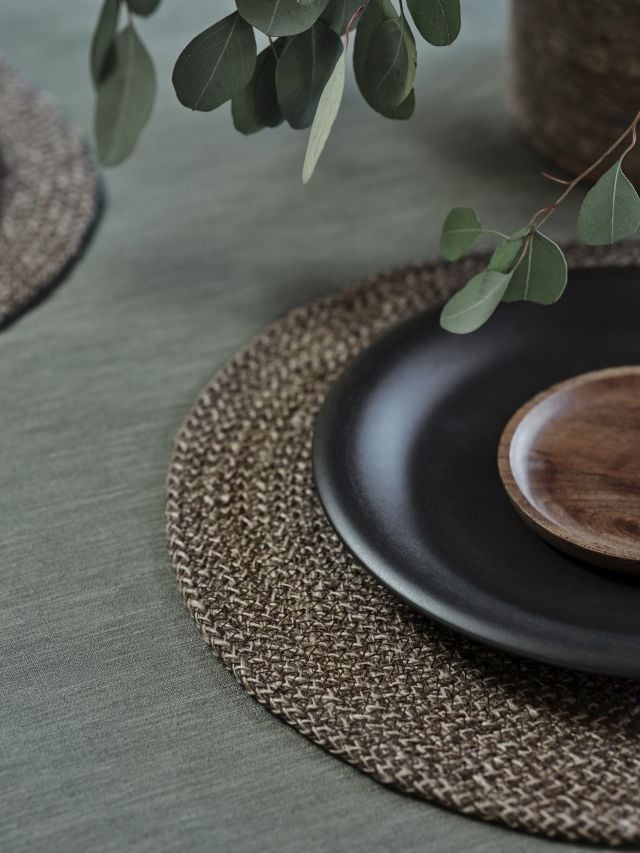 Natural jute placemats
Our durable jute placemats with a genuine natural feel, are made by hand in Bangladesh. They are available in both round and oval shapes, with different bindings in a harmonious neutral color scheme.
SEE ALL JUTE PLACEMATS
Natural seagrass placemats
Our lovely handmade placemats in seagrass highlights and creates a soft framing for your table setting. There is great care behind the making of each individual tablet. Some of our seagrass placemats are decorated with an edging of jute in black or white. Seagrass is a fast-growing material often found on the shoreline and along river banks. When dried, it becomes strong and flexible, which makes it optimal for braiding into beautiful durable products.
see all seagrass placemats