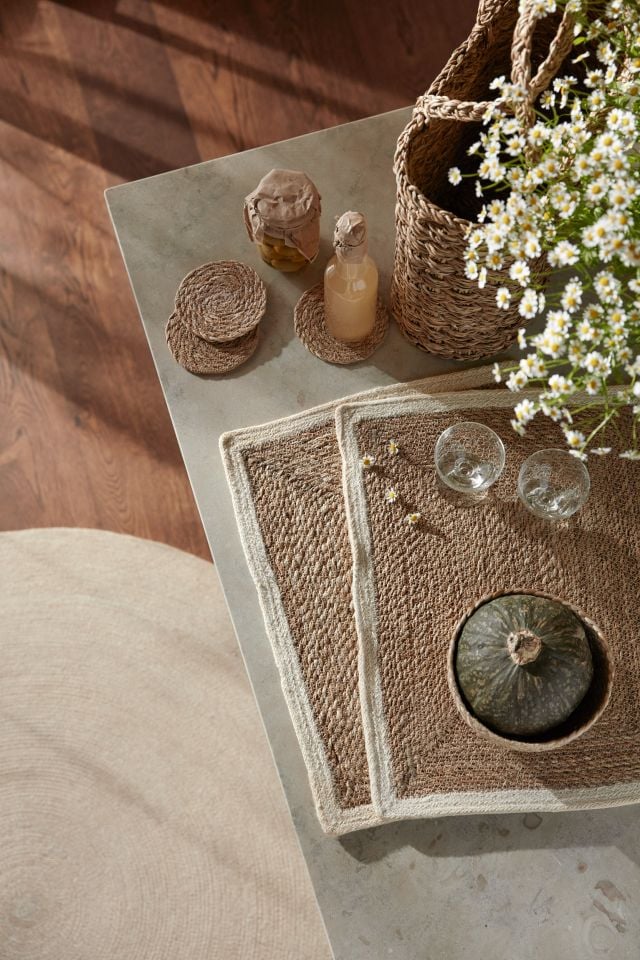 Inspiration
Table setting tips
Set the table for success
– table setting tips for everyday life and special occasions
A year offers many opportunities for joyful gatherings around the dining table, regardless if it's your everyday dinner, breakfast or more special festive occasions. And, what could be more welcoming than a lovingly set table?
Join us as we share some valuable tips on how to do that little extra to enhance both the feeling and atmosphere around the table, as well as the impression of the prepared meal.
Dress up your table – create the foundation with a tablecloth & placemats
The foundation for a beautiful table setting is of course laid by choosing your tablecloth and placemats. Therefore, start there and only then consider choice of porcelain, flowers and other decorative items.
Tip! Don't skip placemats just because you have a tablecloth. They're really the icing on the cake that frames each individual place setting. If, on the other hand, you have a beautiful table that you don't mind showing off, by all means, leave the tablecloth out and use only placemats. Mind you, placemats also serves a very practical purpose by protecting the table surface or tablecloth from stains, spills and crumbs.
With our placemats in natural materials such as seaweed, jute and linen, gives you endless possibilities to vary your table setting. With a natural-colored or sober shade on a placemat, you can choose to either match or completely go off in another colour direction on decorations, flowers, napkins, glass votives or candles, still remaining clean and stylistic. With simple means, you can vary your table setting according to current mood, meal, season or holiday.
our placemats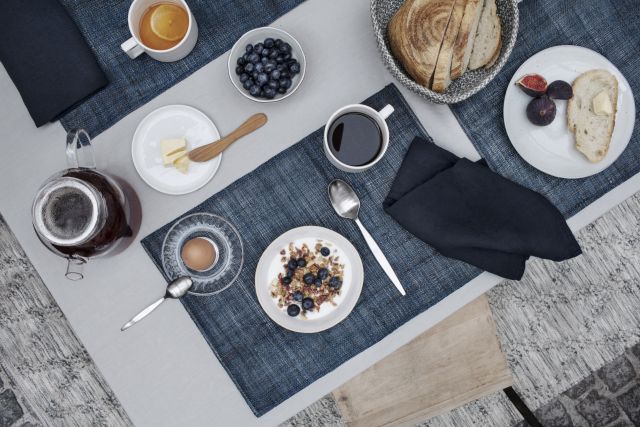 Give the food space to shine
Enjoying your moments at the dinner table, is just as important on a Monday morning eating breakfast, as it is during weekday dinners or a dinner party with friends, where the table setting is an important factor. However, most of us don't have a wide variety of plates and sets of cutlery to choose from for all occasions. That's not a problem – here's how you work around it!
Choose to see the food you serve as part of your table setting, where colors of ingredients and decorative garnish together with other table decorations complement any and all one-colored plate set.
Also remember to use the garden's greenery and fruit as decoration on your plate – why not beautiful edible flowers? See your porcelain and cutlery as a base to work around, instead of a limitation.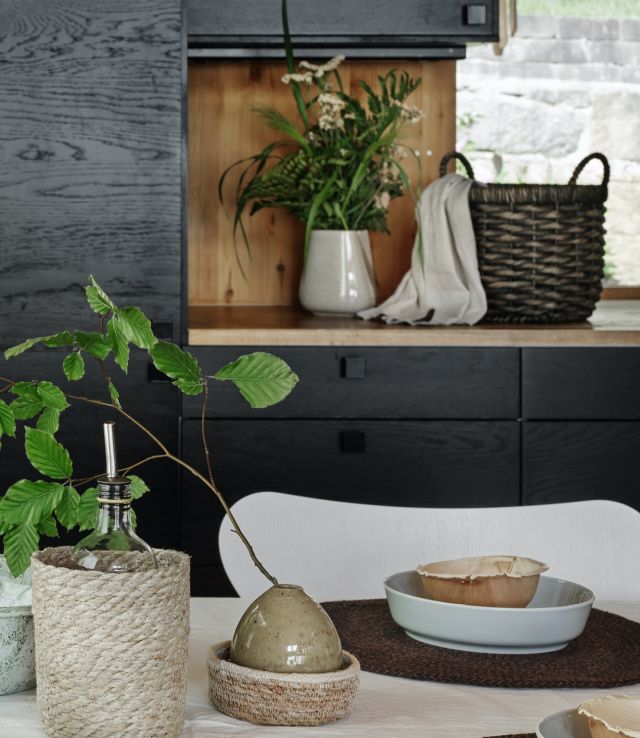 Match & decorate – use what nature gives
Using what nature offers is sometimes the easiest way to create a beautiful table setting or table decoration. Every season has something to offer! Decorate with flowers, green twigs, colorful leaves, cones or berries and – voilá you have a wonderful table decor.
Place e.g. twigs or flowers in a handwoven basket, complement with matching baskets for bread or other snacks for a nice cohesive look.
Table setting for every season
We want to use things over and over again – regardless of the season or occasion. Emphasizing the unique expressions of different seasons with simple means – it's not as difficult as you might think!
Table setting tips – all year round
With our placemats in natural materials such as seagrass, jute and linen in a sober color scheme, there are endless possibilities to vary your table setting!
You can easily customize your table setting by adding accent colors, flowers and other table decorations that creates the right look, whether it's an autumn table setting, summer table setting, Easter table setting, Christmas table setting, midsummer table setting or other festive occasions, or holidays.
Choose either to match the placemats in soft tones or deviate completely in a different colour scheme on your decorations, flowers, napkins, glass lanterns or candles. With very simple means, you can vary your table setting according to mood, season or holiday. Great, right?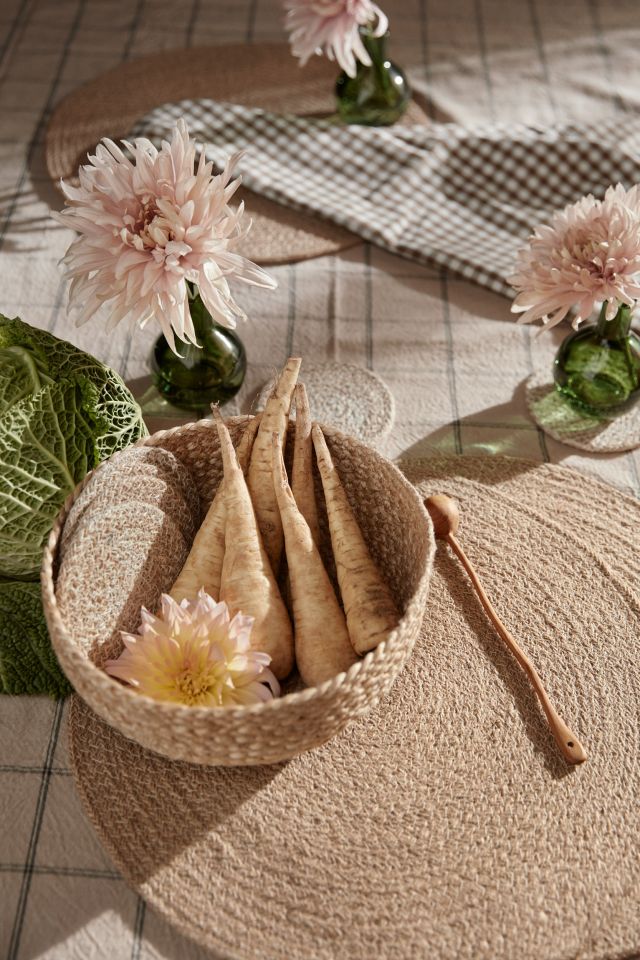 Jute placemats
Our durable jute placemats with a genuine natural feel, are made by hand in Bangladesh. They are available in both round and oval shapes, with different bindings in a harmonious neutral color scheme.
see all jute placemats

Seagrass placemats
Our lovely handmade placemats in seagrass highlights and creates a soft framing for your table setting. There is great care behind the making of each individual tablet. Some of our seagrass placemats are decorated with an edging of jute in black or white. Seagrass is a fast-growing material often found on the shoreline and along river banks. When dried, it becomes strong and flexible, which makes it optimal for braiding into beautiful durable products.
see all seagrass placemats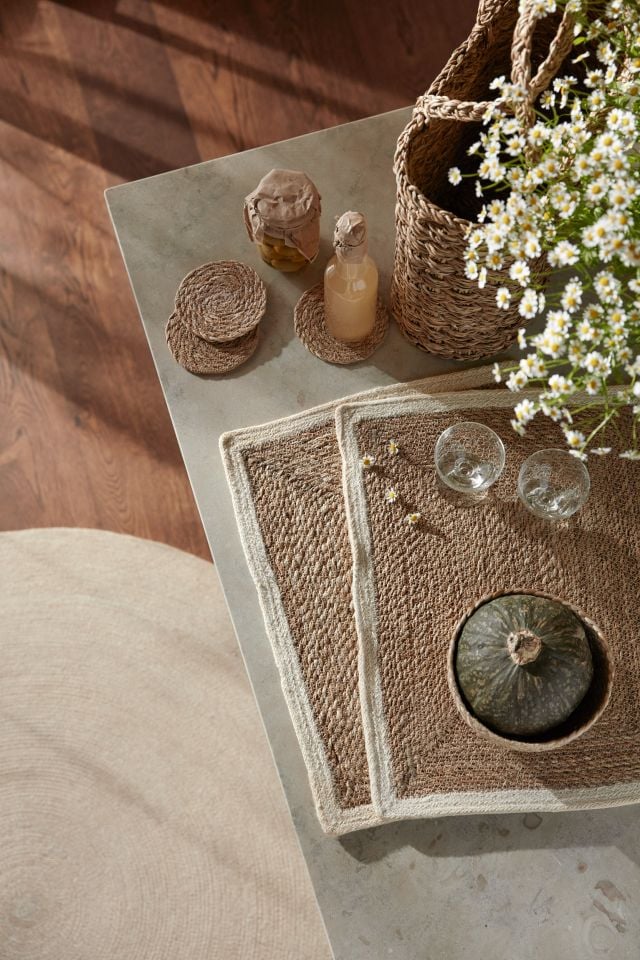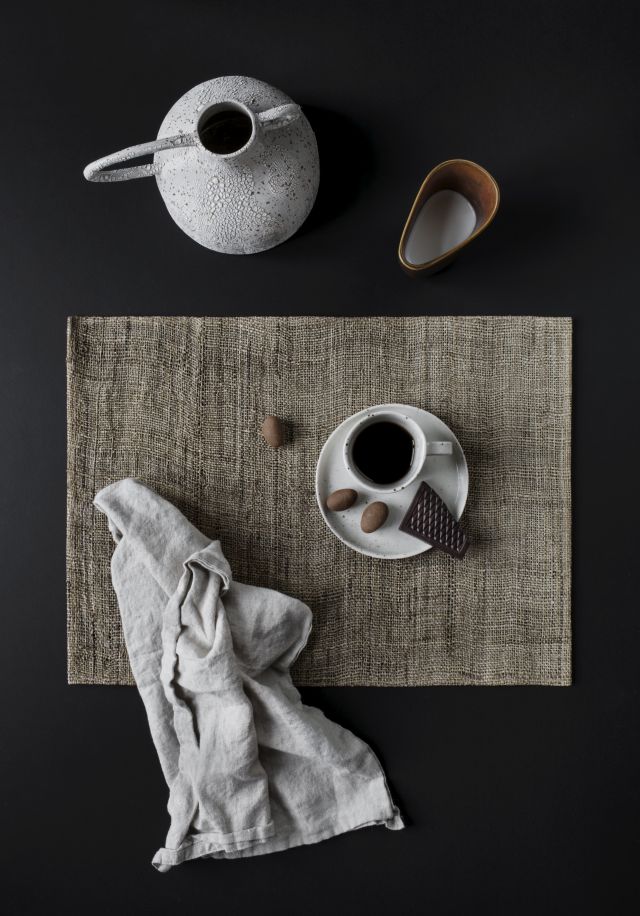 Linen placemats
What could be more beautiful and inviting at a table, than carefully handmade linen placemats in sober colors? The fibers in the stem of the flax plant become a beautiful flax yarn that are weaved into placemats, then dipped in natural starch for a longer life. Our hand-woven placemats in linen are available in both round and square shapes and are 100% recyclable.
see all linen placemats