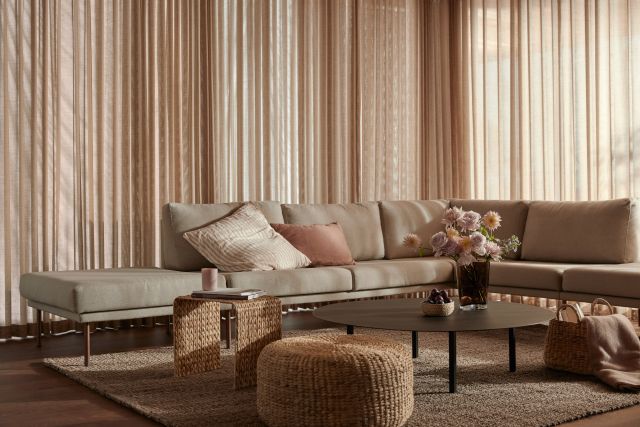 Inspiration
Rug
inspiration
Rug guide: how to choose the right rug for your rooms
A room without a rug is like a boat without oars! Not only do rugs fulfill an important practical function by absorbing sound and providing warmth under your feet, they also frame and create a cozy homey feeling. The right rug binds your interior style together and elevates the impression of a room to a whole new level!
But how should one think in order to choose the right rug for a room or space? What about size, shape and material? How are you supposed to know what fits and what doesn't? We've gathered our best tips, inspiration and things to think about to make it easier for you to choose the right living room rug, kitchen rug, dining room rug, hallway rug and bedroom rug. Join us as we guide you – room for room.
see all rugs
What size of rug should I choose?
Choosing the right rug size is not always the easiest. One of the most common mistakes people make, is buying a rug that is too small. To avoid this, you should first of all take into account what furniture the room has or is going to have, and only then consider what rug size is best for you.
So, don't be afraid to let the rug take up space! This doesn't mean that it needs to steal all the attention in the room in terms of color or pattern. The mere presence of a rug gives life and personality to a room.
Imagining how a rug size will work in reality can be a challenge. A tip is therefore to mark out the size and placement with tape on the floor – simple as that! It makes it easier to visualise before you make up your mind.
our rugs
Rugs for all rooms
We have rugs for all rooms such as kitchen rugs, living room rugs, dining room rugs, bedroom rugs, hallway rugs and of course – doormats (which we cover extensively in our inspiration article "Hallway Interior"). Not only that – they are all made of carefully selected natural and durable materials, timeless colors and shapes that suite different needs and desires.
Dining table rug & dining room rug
If the rug is to be used in the dining room or under the dining table, it's important to measure more than the size of the table, i.e. the rug size should include the chairs and then some. You should be able to easily pull the chair out, making sure it still remains on the rug, avoiding that it hooks on the rug edge. To calculate a good dining table rug size, start with the size of the table and add about 50-70 cm around on all sides. Test it out by marking it out with tape on the floor and try out how it works with chairs.
Living room rug
The sofa is often the focus point in the living room and the place where we want to hang out, gather friends and family, watch movies and play games. Don't cut back on the size of your rug here. It binds the furniture pieces together and contributes to an overall cozy feeling. However, to serve this purpose, it's important that the placement of the rug is well thought through. As a rule of thumb, the rug needs to be at least as wide as the sofa, preferably at least 20-40 cm longer on both sides of the sofa edges. Keep in mind that the same distance applies if you have side tables next to the sofa edges.
If the sofa is centered in the room, it is nice if all the legs of the sofa can fit on the rug together with all other seating furniture pieces, including any coffee- & side tables you might have. In this situation, just like above, all pieces should be placed with at least 20 cm margin to the rug edges, in order to form a unit. Remember to leave plenty of walking space between the furniture pieces on the rug, to avoid the space feeling cramped – it affects the impression of the whole room. Consider all of this in your overall measurements before determining the size of your rug.
If, on the other hand, you live in a smaller space or have the sofa placed against a wall, a good rule of thumb is to have only the front legs of the sofa placed on the rug. The same applies to other seating furniture pieces around the coffee table. It looks nice, balanced and gives a feeling of a larger floor space.
However, don't forget that your feet should be able to rest on the carpet when you sit on the couch, it's more comfortable and cozy. If your living area is tiny, you can test to place the rug centered and place your seating furniture around the edges without any of the legs standing on it. It gives a more airy impression.
Create dynamics with round rugs and layering
Don't miss the chance to arrange your sofa & seating furniture around a round rug. A large, lovely round rug with seating placed along the edge of the rug can create a distinct, living space with style. Try switching between having some furniture legs on or off the carpet – as you prefer.
Also try to lay rugs in layers for an exciting dynamic and a more personal expression in the living room.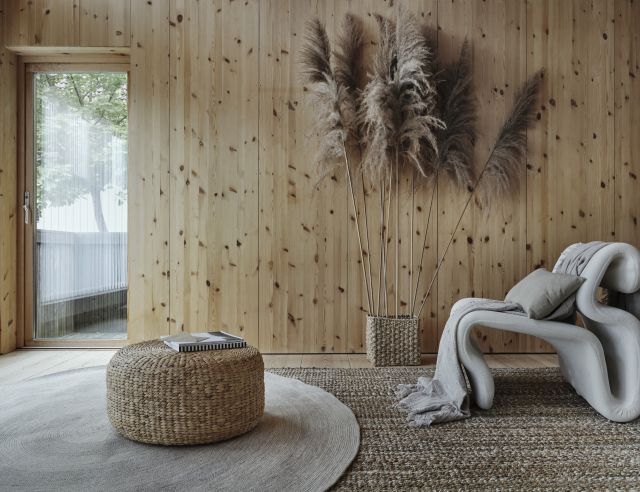 Long rugs and hallway rugs
Parts of the house that are exposed to a lot of traffic and wear require a durable rug. An example of an area like this is of course the hallway, but also e.g. bedrooms and corridors. Our rugs made of jute and sisal are created from naturally durable fibers and provide a good and stable surface that resists signs of use over time.
Our long rugs and large rectangular and round rugs made of sisal have a natural latex backing, which not only makes the mat more stable, it prevents sand and gravel from slipping through, and you can skip a separate anti-slip protection.
Bedroom rug
In the bedroom, there are endless possibilities when it comes to choosing placement and size of rug. What you should decide depends e.g. on the placement of the bed, the size of the room, whether you have a double or single bed, and whether you want the entire floor area under the bed covered with a rug or not.
If you choose to have a rug under the entire bed, it should be large enough to stick out at least 50 cm in all directions, so that you can walk on the rug around the bed. If you have bedside tables, they should also be able to stand with all legs on the rug.
You can choose to have a rug that don't fully cover the floor under the bed Then place the rug starting from the middle of the bed and downwards, or perhaps even further down, so that only the front legs / lower legs of the bed stand on the rug.
Another popular option is to have two long rugs on each side of the bed. The length of the rug is determined by whether you want it fill up along the entire side, with the bedside tables standing on the rug, or not. Whatever you choose, be sure to place the rug slighly in under the bed so that your feet can land softly in the morning getting out of bed.
If you have a single bed, the rug should be at least as wide as the bed. The room and the bed blend harmoniously together if you place the bed at least 20 cm in on the carpet.
A rug that blends in or stands out?
Shape
We have shared tips and suggestions regarding shapes and sizes of rugs for different rooms, but ultimately it is up to you to choose. The most important thing is that you feel at home and no styling tips in the world can control that. So, which shape do you like best? Also – play around with the fact that you don't have to stick to one shape in a room…
Having different shapes on rugs in different parts of a larger room divides the room in different parts and creates a room-in-room feeling. For example the sofa group in front of a TV can be paired with a large rectangular rug and a smaller seating area in another part of the room can be accentuated with a round rug. In our range of rugs you'll find round rugs, rectangular rugs, long rugs, large rugs and small rugs – pick and choose your favourites!
Colour & shade
When choosing a color or binding for your rug, is it a good idea to think about whether you want the rug to blend in or create a contrast in the room. Do you have an accent color on a wall or a piece of furniture that you want the rug to match? Or should the rug be more neutral to enable easy changes of accent color through pillow cases, votives or other interior details? There is no right and wrong, here.
Let your gut decide to create spaces that you love to spend time in. If you feel lost, you can start by creating a mood board to get an overview of what you like and not.
Handmade rugs
Most of our jute rugs and doormats are made by hand. A proud craftsmanship in southern India where knowledge has been inherited from generation to generation. It gives us carefully designed, durable and beautiful rugs where each product is unique.
What rug material should I choose?
Choosing the right material for your rug is an important starting point for making a good and sustainable choice. Rugs made of natural materials such as sisal and jute are naturally strong and can handle busy areas in the house, such as the hallway, corridors and under the dining table.
Thanks to modern production methods of the strong jute fibers, the rugs are soft and comfortable, and therefore fit just as well in bedrooms and living rooms.
Sisal rugs
The sisal fiber is shiny, ivory colored and extremely strong – in fact it's one of the world's strongest natural fibers! This of course means that our beautiful sisal rugs are very durable and strong, even in rooms that are exposed to a lot of wear and tear, such as the hallway and the office.
Thanks to the natural cavities in the rugs, the sisal can absorb smaller amounts of moisture without being damaged and swallow sand and gravel grains so that they are not brought further into the home. Our rugs in sisal are equipped with a natural latex backing which makes the rug extra stable and you don't have to use separate anti-slip protection.
our sisal rugs
Jute rugs
A jute rug is truly beautiful in all its natural beauty. Our durable, beautiful and sound-absorbing jute rugs are made by hand in southern India. Thanks to modern and careful production methods the jute fibers are made into a soft, natural yarn with silky luster that is a pleasure to be weaved and dyed.
The rugs are 100% recyclable, very stable and durable and are well suited for e.g. the hallway, the kitchen, the dining room, the bedroom and the living room. Most of our jute doormats also have a natural latex backning that protects and makes them extra stable. PS. Did you know that a jute rug absorbs 10 times more sound than e.g. a synthetic rug?
our jute rugs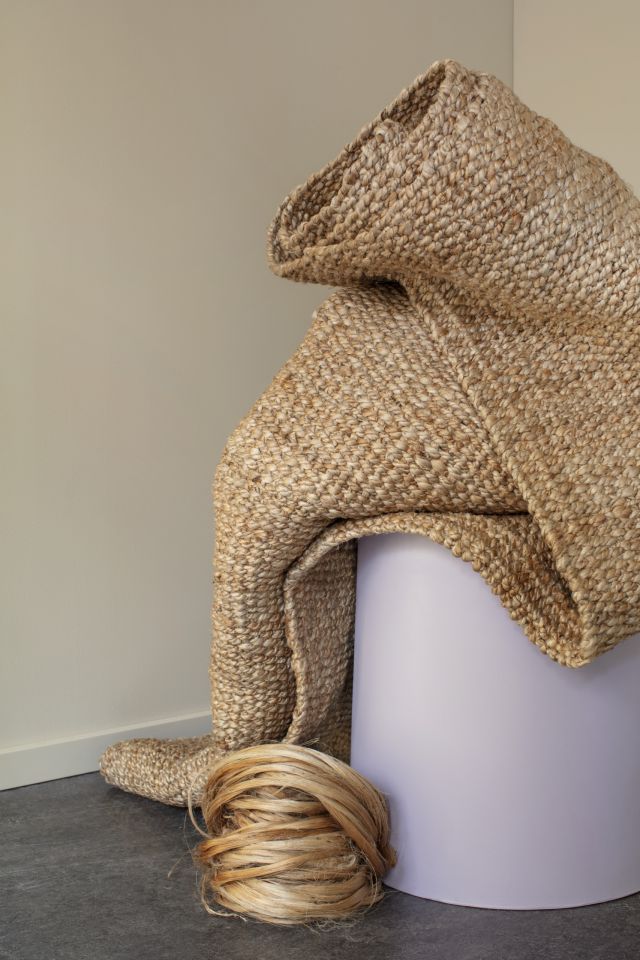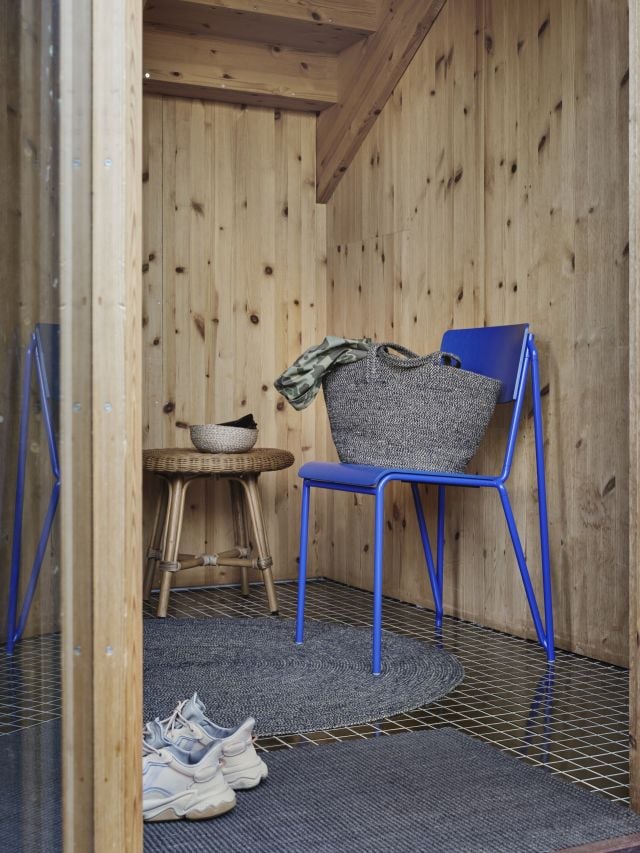 Take care of your rug
If you look after your rug and care for it, it will have a long life. A tip is to rotate the rug regularly to give it a more even wear. Also avoid sun fading by keeping it away from direct sunlight.
How do I wash my rug?
Most rugs cannot be washed at home. Rugs made of natural materials such as jute and sisal can not be soaked at all. It destroys the natural fibers and the rug loses its shape.
Instead, clean your carpet by vacuuming it regularly, shaking and wiping off any stains with a damp cloth.
However, our doormats and boot trays made of 100% rubber can be soaked and scrubbed clean when necessary.