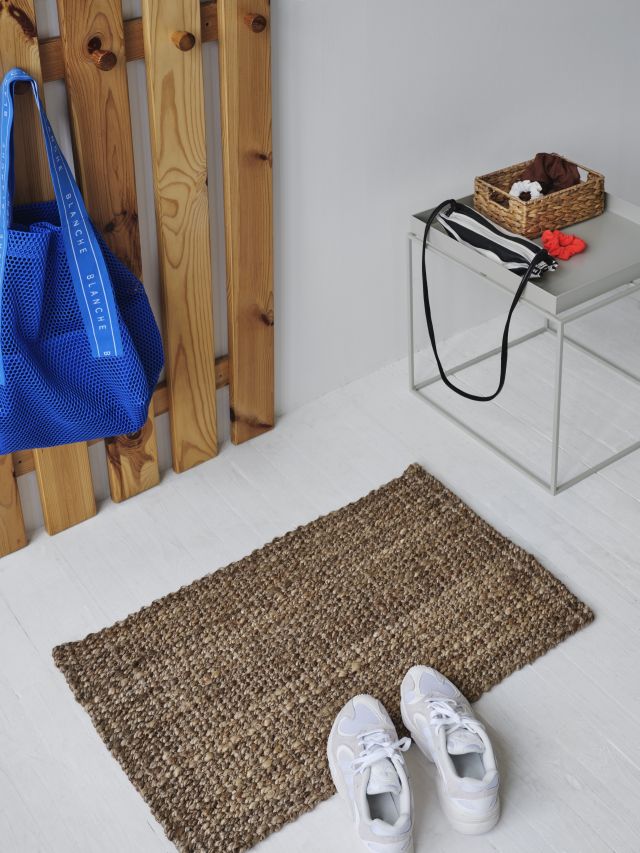 Inspiration
Hallway
interior
Inspiring tips for a welcoming hallway
The hallway is the first thing both you and your visitors encounter in your home. Therefore, it's well worth giving it some extra thought and effort in order to create a good first impression – an impression that is inviting and welcoming.
With changing seasons, it also takes a little extra to organize and handle wet shoes, warming gloves & hats. We have 5 simple steps to follow for a hall that really says "welcome" – all year round!
1. Choose your doormat with love and care
The first thing we put our feet on when stepping into a hallway, is the doormat. It serves both an important practical function and prevents dirt, gravel and moisture from the shoes to travel into the home. But it also creates a great first impression and should welcome both you and your visitors.
So what impression do you want to make? You don't have to compromise on feel, style and color just to have a functional, strong and durable doormat. With a doormat in jute, sisal or rubber with different bindings, colors, sizes and patterns, you get everything in one!
Most of our jute doormats and all of our sisal doormats have a protective back of natural latex. This means that the carpet lies still and neither moisture, nor grains of sand slips through, avoiding the risk of damaging your floor.
see all doormats
Jute doormats
Our jute doormats with protective backing of natural latex, are handmade by skilled craftsmen in southern India. With its strong, yet soft fibers, you get a rug that says it all and does the job – all in one. Our jute doormats come in different bindings and sizes: 50x80cm, 60x90cm & 70x120cm.
We offer both classic, sober colors, and natural shades, but also colors that suit different interior styles, seasons, and accent color favourites. Among our colors you find e.g. rusty red, dark green, black, thunder blue, oat, lead grey, coffee, ivory white, old rose, ocean blue etc. In our range of jute doormats, you find the collections: Julia, Fiona, Filip, Freja and Fanny.
see all jute doormats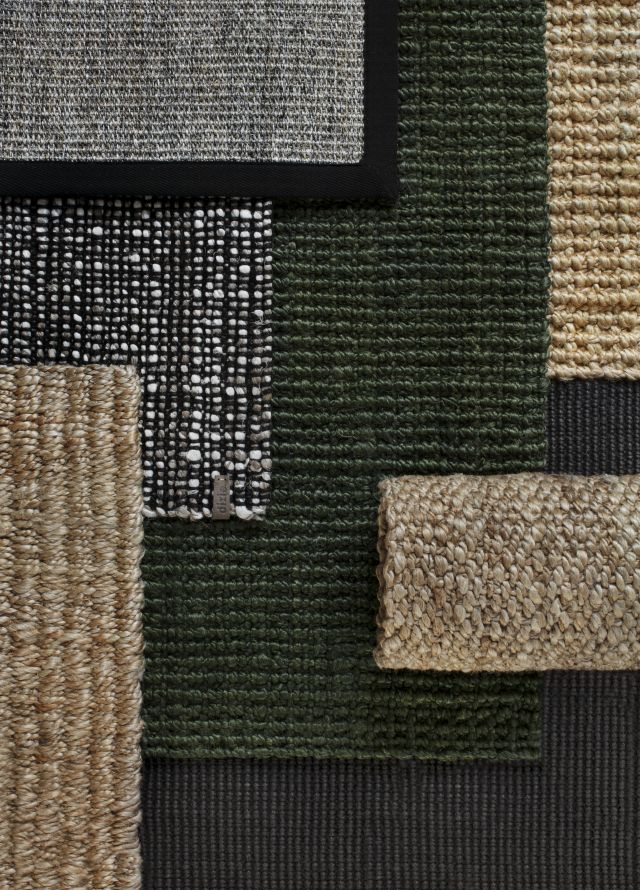 Sisal doormats
Rugs and doormats made of sisal are a growing trend, which we think is a really good thing. The sisal is namely one of the world's strongest natural fibers, which makes rugs made by sisal great by the heavily trafficked front door. The shiny fiber provides a beautiful binding, but that's not all. What many don't know is that sisal is beneficial from an environmental point of view, as it absorbs more carbon dioxide than it produces.
Our sisal doormats are available in three sizes: 60×90 cm, 70×120 cm and 80×150 cm. The rugs are framed with a cotton edging and come in three sober natural shades.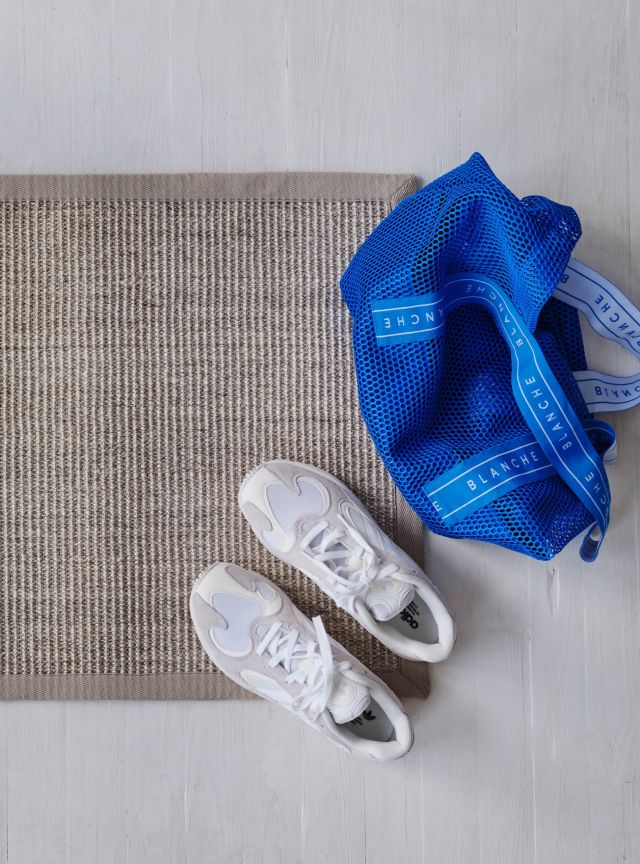 Rubber doormats & boot trays
Our collection Black, consists of beautifully designed doormats and shoe trays made of rubber. The combination of design, durability and function is really worth emphasizing here. Its timeless and stylish expression enhances your interior, while the incredibly durable material handles the most demanding needs.
The rubber doormats are made from a mix of natural rubber and recycled rubber for the best possible strength and quality and they are easily cleaned under running water. Did you know that they can withstand harsh conditions and sub-zero temperatures? This makes them perfect to use both indoors and outdoors.
see all rubber doormats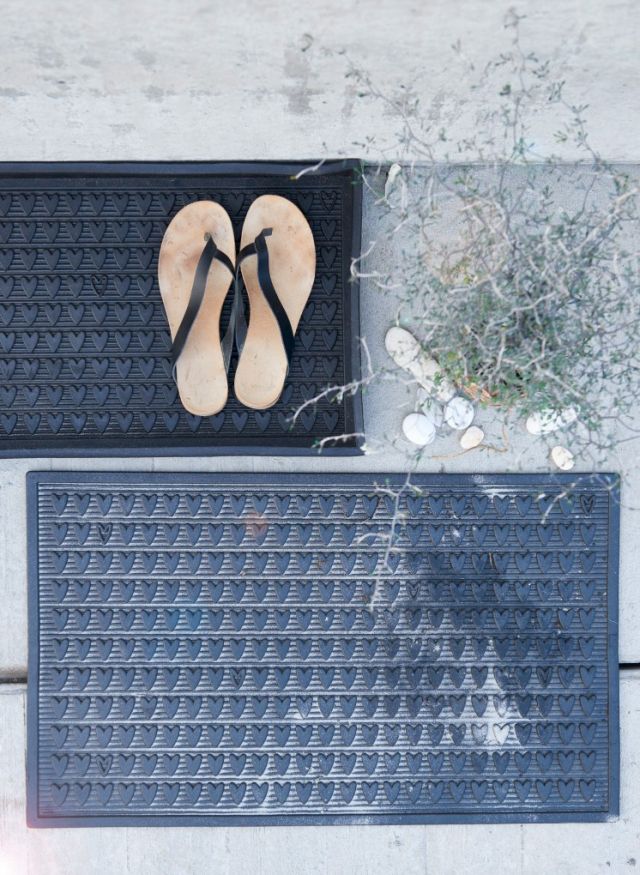 2. Choose a hallway rug that leads the way into the home
Next in line in the hallway, we have the space that accomodates the coat hanger, shoerack or wardrobes – a passage that leads further into the home. This depends on how big your hallway is – of course – but for many it's a surface that is exposed to as much traffic and wear as the doormat. Our extra durable long rugs and hallway rugs made of sisal and jute give a qualitative and welcoming impression while protecting the floor and resisting signs of use over time. Timeless, inspiring and functional!
Our long rugs, large rectangular, and round mats made of sisal all have a natural latex backing, which makes the rug really stable. Sisal also swallows gravel, grains of sand, and small amounts of moisture in its natural cavities, which means that this is prevented from being dragged further into your home – clever, right? Clean the carpet by shaking and vacuuming it. This rug comes in the same shades as our sisal doormats, which enables you to create a harmonius impression.
Our beautifully hand-woven rugs in jute are also available in long and large sizes, and works perfect as hallway rugs. Here you can choose from a large number of sober colors and shades that can either, just like your doormat, highlight an accent color and create a unified impression, or have a more neutral shade to let other interior details express themselves. The rugs are available in different bindings, which creates space for your personal favourite look.
see our rugs
3. Somewhere to sit

Offering somewhere to sit creates a welcoming vibe and makes the hall way into more of a furnished room than just a passage. Use a chair, bench or why not a beautiful round or square pouf in hand-braided water hyacinth? A natural place to sit down to lace up your shoes or just land in the present. Natural materials are gentle, letting other interior details stand out, still saying so much in its sober expression. Warm natural tones complement a stripped-down or monochrome interior style nicely, but are also just as suitable for a expressively patterned wallpaper. Flexible and timeless!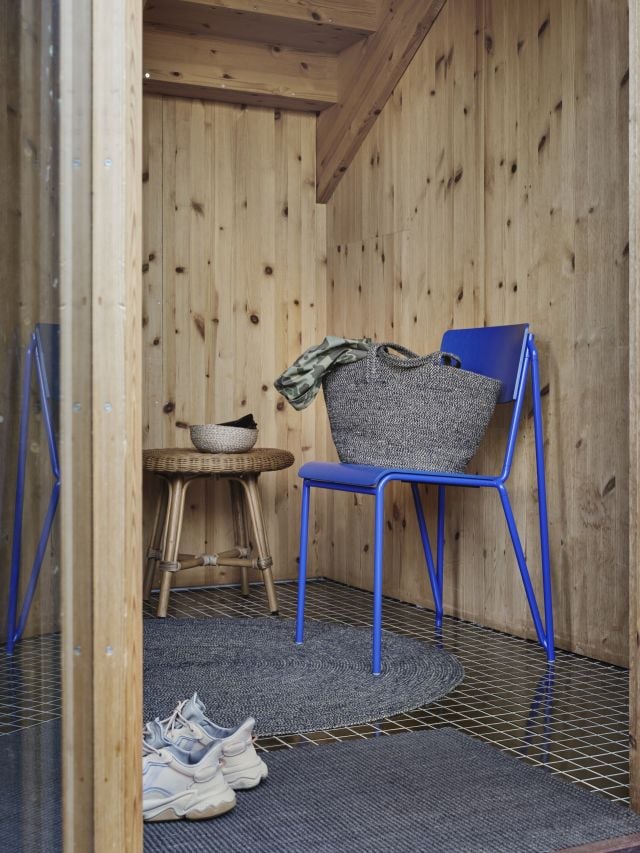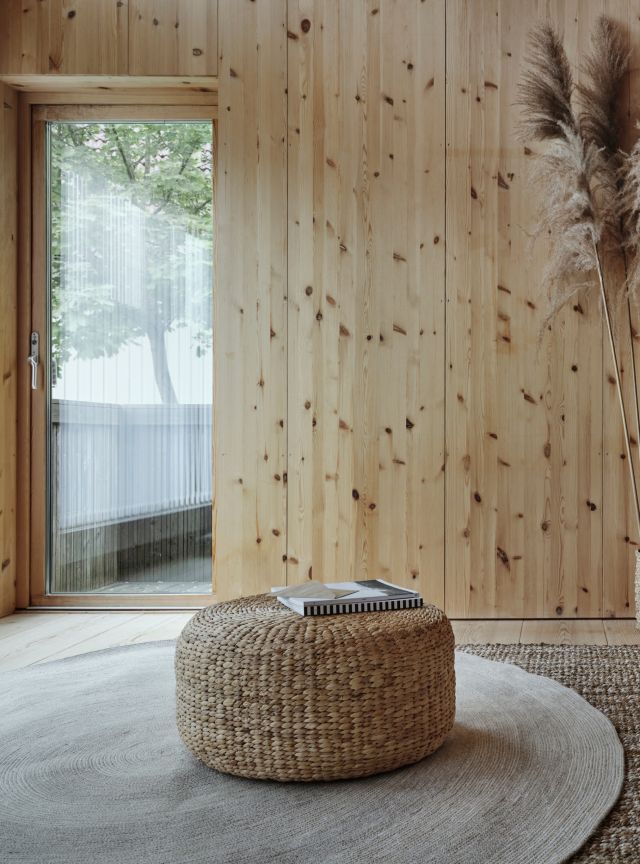 4. Smart storage in the hallway
– baskets for all needs
Smart storage is everything when it comes to decorating a hallway. The more things that are visible, the more cluttered and smaller the space seems. Plenty of storage is simply a must for a calm, welcoming feeling!
A pracitcal and beautiful basket to put all your stuff in when you arrive home is a great way to avoid that messy look that occur when keys, receipts and what not, is left laying around. For this, our wall baskets in hand-braided water hyacinth really work wonders as they solve the task of hiding (and easily finding) keys, small items, hats and gloves in a smart and flexible way. If you have several mounted on the wall, one can be dedicated to keys, one for the daily mail and one for your hats and gloves.
If this does not suit you, one or more beautiful baskets in any shape and material – with or without lid – are perfect to place on your side table, chest of drawers or shelf. Use them to place your keys and other small items, avoiding clutter, but safely stowed and kept until you need them again.
Big household? Then of course we have other smart storage ideas! Assign at least one storage basket to each family member to eliminate that stressful search for gloves, hats and scarves. Avoiding everyone having to dig through a common drawer or basket, is guaranteed to save a lot of time and everyday frustration.
You can choose storage baskets with or without lid, depending on whether they are placed visible or inside a closet. If you choose one of our handmade storage baskets, you actually do not even have to try to hide the baskets – they become a beautiful interior design element.
We have a variety of handmade storage wicker baskets to choose from – all with the highest quality and unique expressions. Choose between round baskets, rectangular baskets, small baskets and large baskets – all handmade of seagrass, jute or water hyacinth in different colours and weavings.
5. Plants & greenery
Green is good! Having a plant or flowers on the side table or a larger plant placed on the floor is a beautiful decorative element. Is your hallway dark? There are a lot of plants that actully thrive in darker corners, e.g. Ivy, Mother-in-law's Tongue or Chinese Money-plant etc. Put it in a wicker basket and enjoy!