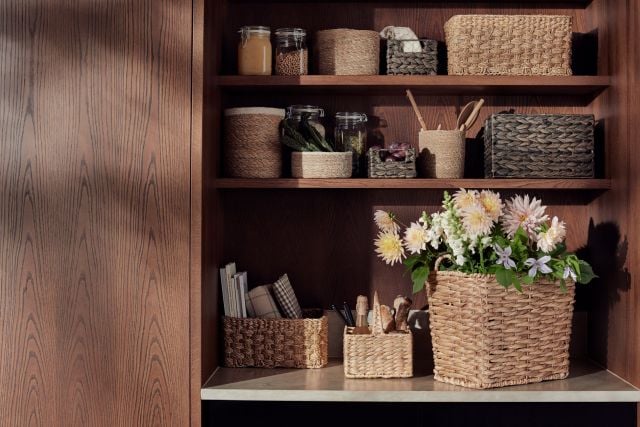 Inspiration
Storage
baskets
Wicker storage baskets made of durable materials in different sizes
Here at Dixie, you'll find a large range of wicker baskets, excellent both as storage baskets and laundry baskets. Our baskets are available in different shapes and sizes made of different durable, always natural, materials. Our baskets are designed to be practical, but are so beautiful that they actually become an interior detail in themselves, instead of storage boxes you want to hide. So instead of seeing storage as a problem, you can see it as the detail that gives the room that little extra – while at the same time always knowing where to find your things.
Storage baskets are simply a great way to make it easier to organize your things and create structure in your home.
Our storage baskets with lids and laundry baskets are perfect for tidying up quickly – regardless if it's the dirty laundry or bits and pieces you need in your everyday life.
Baskets for all rooms
All our baskets are carefully made by hand in different forms and sizes. You can choose from a range of natural materials, different braids, if you want soft baskets or hard baskets with frame, and even if you want storage baskets with or without lids.
Say hi to all our collections of braided wicker baskets. We call them: Emil, Elin, Lily och givetvis "Esther.
SEE ALL storage BASKETS
Our materials
All our storage baskets are made out of carefully selected, durable natural materials. We offer timeless materials that help you decorate with storage in a beautiful way.
Water hyacinth baskets
Many of our baskets are made of handwoven water hyacinth and thus help to prevent Vietnamese watercourses getting clogged. Water hyacinth is a fast-growing weed that has a suffocating effect on watercourses important for fresh water supply. Instead, it is harvested and turned into sustainable baskets that are of good both in your home and in nature.
our water hyacinth baskets
Seagrass baskets
Seagrass is a natural material that has been used for braided products since ancient times. It is a fast-growing material found in water along beaches and rivers. The seagrass is sun-dried, a process turning it into a strong and flexible material that is beneficial to use for beautiful braided wicker storage baskets.
our seagrass baskets
Jute baskets
Our jute baskets are made in Bangladesh. It's a cultivated, very durable fiber that is excellent to use for storage baskets. When made out of jute the baskets become both beautiful, durable and sound-absorbing. In addition, since the jute fiber has shifting nuances, each basket becomes unique.
our jute baskets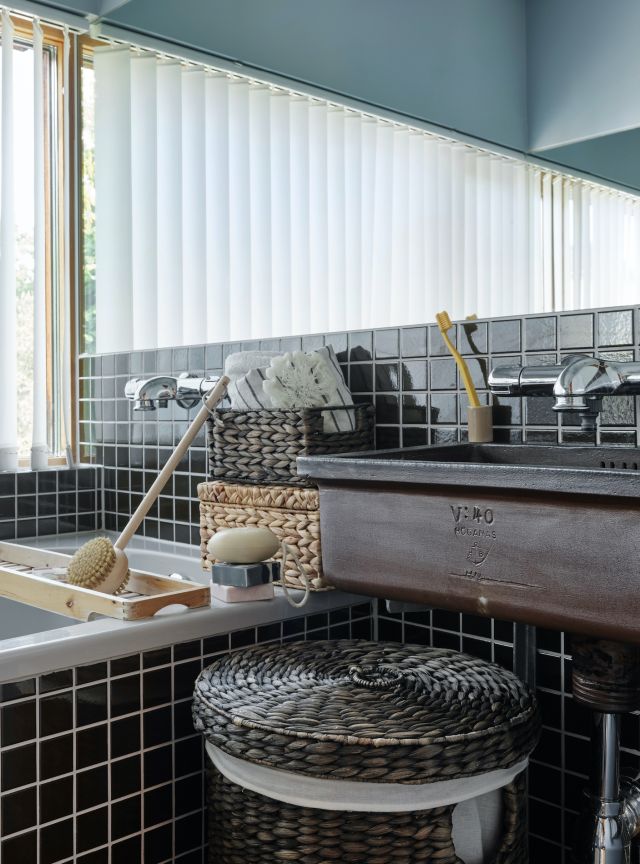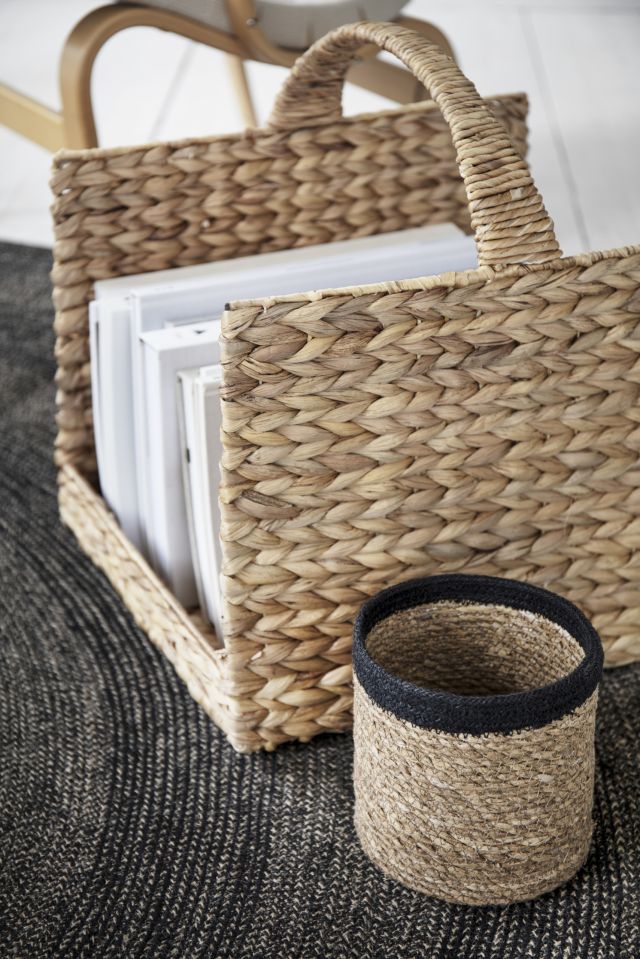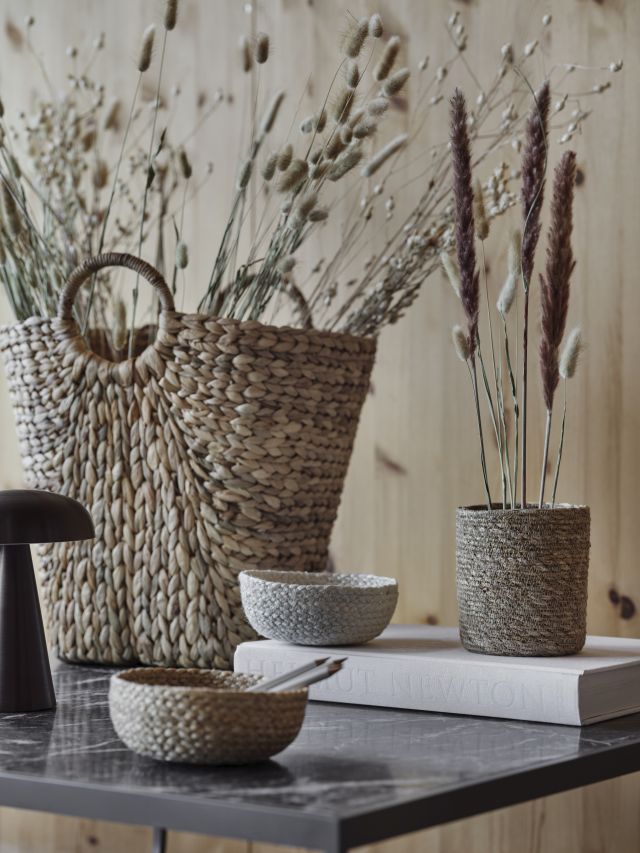 Storage baskets bathroom
For some strange reason, the bathroom cabinets tends to get filled up with products, and suddenly there are bottles and tubes laying around visibly in the bathroom. Not a nice scene at all, also making it hard to keep the bathroom clean! In addition to using a wicker basket as a laundry basket in the bathroom, there are a variety of sizes and shapes of storage baskets that are both stylish and practical to store products in. Baskets that can be placed on a bench top, on shelves or perhaps on the washing machine? A tip is also to put the not so flattering toilet rolls in a beautiful hand-braided basket. Practical to have them close at hand, but still beautifully presented. Including natural materials in the bathroom gives it a more exclusive, natural and soft feeling.
Storage baskets kitchen
We all know how important it is to recycle, but also how cluttered the kitchen quickly becomes when it is filled with bags, boxes or uninspiring recycling bins. With the help of nice wicker baskets in the kitchen, the traditionally boring recycling storage, can instead become a really nice interior detail. Place three similar baskets next to each other or play around with different types of baskets. One, two, three – and you have brought timeless and inviting natural materials into the kitchen and at the same time solved an practical everyday need!
Storage baskets hallway
The hallway tends to get messy with all the shoes, scarves, caps and hats that seems to have no home. Place some beautiful storage baskets in the hall – on the floor or on a shelf – and the problem is solved. In addition to getting rid of clutter, you finally know where to find the gloves or your hat the next time you're on your way. If you place a beautiful low basket in seagrass or jute at your side table or on a shelf you always have somewhere to easily put away keys and other small things when you get home, avoiding a messy impression. Another great tip for welcoming guests, is to have a small basket with slippers in the hall that they can borrow if you have cold floors. Always appreciated!
Storage baskets living room
In addition to having a beautiful basket for your folded blankets and extra decor pillows in the living room, it is always very nice to store newspapers and magazines in a braided basket – close by for easy access but without creating clutter. If you collect your remote controls in a small basket, you always know where you have them and also avoid seeing them scattered on the sofa or on the coffee table. Another good tip is to use baskets as practical storage for refill products such as candles. Have one small basket for tealights and one basket for chandeliers on a shelf – practical and stylish!
Storage baskets for toys
Anyone who has children or often hangs out with people who have children, can recognize the fact that toys tend to be spread out, taking over the living room area. With one or more nice baskets, the children can be close to fun and activity, while the items can be stowed away quickly. A stylish interior detail in the living room that removes all clutter as if by magic.