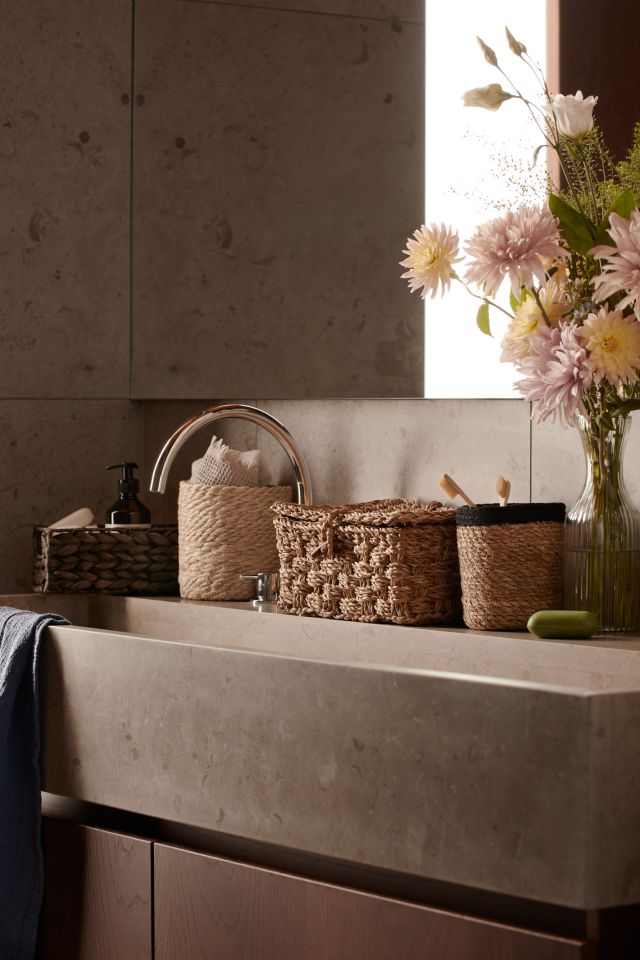 Inspiration
Bathroom
inspiration
Create a relaxing oasis
– a bathroom to love
White, white, a little beige, maybe light grey, and then some more white.
Timeless classic single-colored tiles and white furniture & cabinets are the most common choices when it comes to bathrooms. And it's no wonder – renovating a bathroom is a costly affair and we need to be able to live with our choices for a long time, without getting tired of it. With an emphasis on white, the space also feels larger, while at the same signaling cleanliness and freshness.
The downside, however, is that the result can feel sterile and a little impersonal, which doesn't contribute to a cozy morning routine in front of the mirror or a relaxing time in the bath after a long day.
A harmonious oasis to long for
We're happy to share that this is easy to do something about. And without any major intervention or expensive renovations. With simple means and well-chosen details, you can quickly create a warm, inviting and balanced feeling for your own harmonious oasis – a space to yearn for!
Natural material magic
We love the possibilities and benefits a neutral base creates in every part of a home. With a sober color scheme as a basis, you can splurge with details, colors and patterns as much as you like.
In a neutral colored bathroom, natural materials are a magical method to create a softer and more exclusive feeling.
And that's not all – you solve functional storage needs, get rid of dirty laundry and create energy in the space, all at the same time. We'll tell you how!
Bathroom storage you want to show off
Wicker baskets of natural materials such as seagrass, jute and water hyacinth represents a perfect combination of function & design. You solve neat storage for your things, while they contribute with a warm feeling. The braided material attracts the eye and gives life to an otherwise sterile space.
They are perfect in both open shelves and closed cabinets – with their mere presence, they create a beautiful and well-organized impression. In these wicker baskets you can store everything from make-up and face creams to bath toys, toilet paper rolls and folded towels. All in all, flexible interior details that really elevates the look of your bathroom.
As if that was not enough, you reduce a messy impression – because bathroom cabinets and drawers really tend to fill up very quickly, don't they?…
Choose with care
The key is to hide away most things, and carefully select the items you want to have visible and fit them in an open basket, on a shelf or on the edge of the basin.
We have storage baskets in a number of beautiful natural materials, both with and without lids to fulfill exactly the function you want.
Choose a laundry basket that provides three-in-one
Constantly this dirty laundry… We don't know how it is in your home, but for most people, for some unfathomable reason, the dirty laundry tends to end up in a pile on the floor, at best in an open basket or – even worse – in a plastic bag.
Keep the lid on
A stylish laundry basket with lid made of e.g. braided seagrass or in water hyacinth, hides the laundry completely, creates an orderly impression and softens the overall feeling in your bathroom several notches!
It not only gives you one or two, but three great features in one.
Seagrass baskets
It might be difficult to know which natural material to choose when decorating. We think it's okay to mix! Different natural materials side by side creates dynamism, while they're at the same time so clearly related.
If you haven't yet discovered baskets made of seagrass, we'd really like to make the case for these. We've used seagrass for our baskets for a long time and for several reasons. It's a naturally produced material that's functionally strong and durable, while it also gives a beautiful result.
Design, function & sustainability in harmony, just the way we want it.
Esther in new shapes
A true favorite we like to highlight among our seagrass baskets is our collection "Eshter", which we have expanded with new shapes and sizes.
These beautiful seagrass baskets are hand-braided by skilled artisans in Bangladesh, and are just as lovely in the kitchen as in the hallway, living room and bathroom.
esther collection