Craftmanship
Production & manufacturing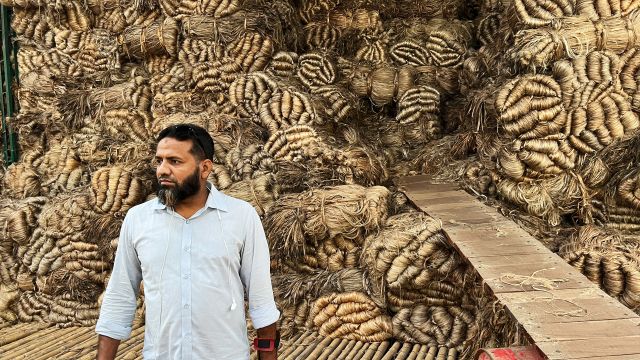 Our manufacturing in Bangladesh
In Bangladesh, our placemats and baskets are made from seaweed and jute. The products are made by hand using a sewing machine or just needle and scissors. The women and men who work in the factory are enormously skilled with the sewing machine and a placemat or basket can be produced in just a few minutes. Careful quality control of each product is usually carried out by women with long experience in the craft.
Quality control
Careful quality control of each product is usually carried out by women with long experience in the craft.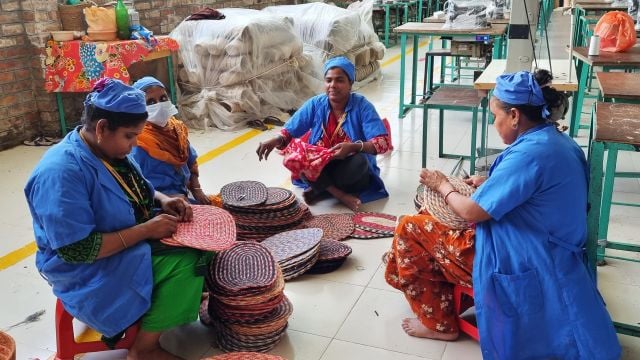 Our manufacture of carpets in India
Almost all of our carpets are manufactured in India, both jute and rubber doormats as well as sisal carpets. All of our unique jute rugs are hand woven from machine or hand spun jute yarn. Our durable sisal rugs are machine woven on large automated factory looms.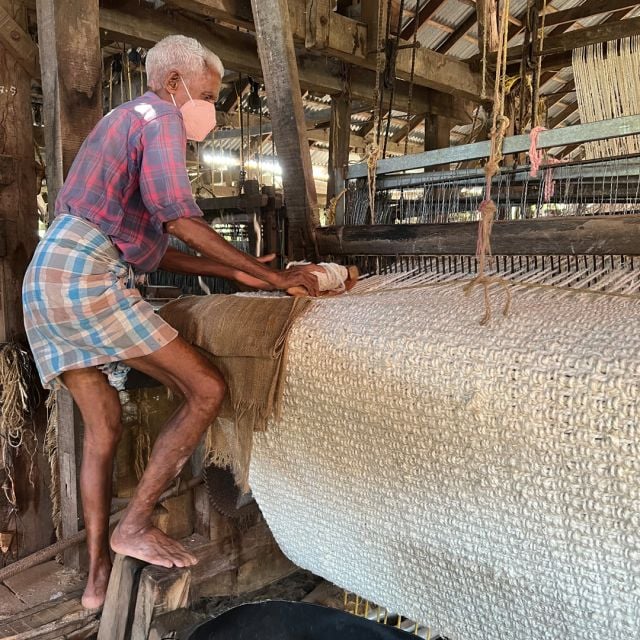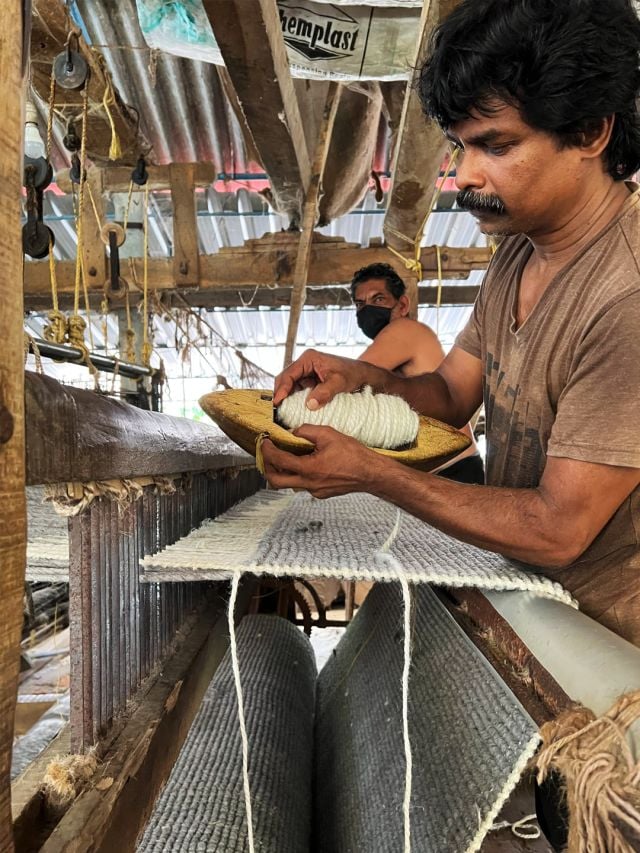 Kerala
Over the years, various weaving societies have been formed in Kerala to enable men and women to work full-time or part-time in the vicinity of their homes but with similar rights to factory work. The oldest association now consists only of elderly people and many looms have not been used for a long time and are unfortunately unusable. When these workers retire, the weaving associations are likely to gradually die out. For example, it takes a special loom and five people with long experience to hand-weave a jute rug 4 meters wide. It is only here in Alappuzha that the old handloom tradition is still alive and they are keen to keep it alive but realize that it can be difficult as the younger generation has other desires in life.

However, there are also more modern associations that take in jobs to relieve various companies during high season or larger special orders. Here, the new automated weaving technology is mixed with the old craft tradition.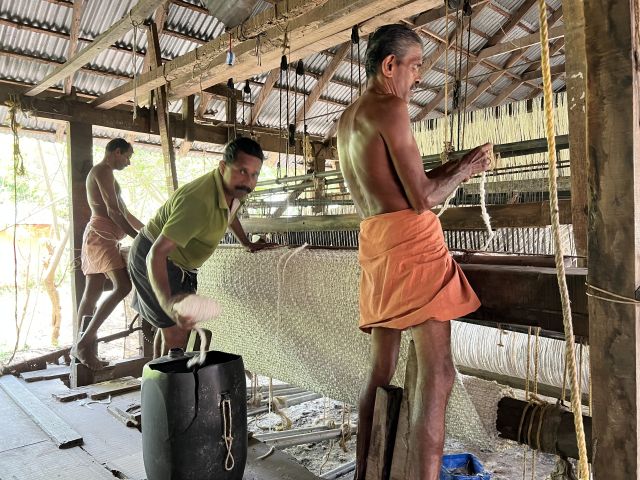 A private person (foreman) sometimes has a weaving mill at home on the farm with a few looms and employees. The foreman receives an assignment and then makes all the calculations regarding material consumption, time consumption and quality control, etc. He then gets paid per square metre, per piece or per hour depending on the product the assignment refers to and its scope.
The workers then have an hourly wage and certain other benefits corresponding to ordinary factory work.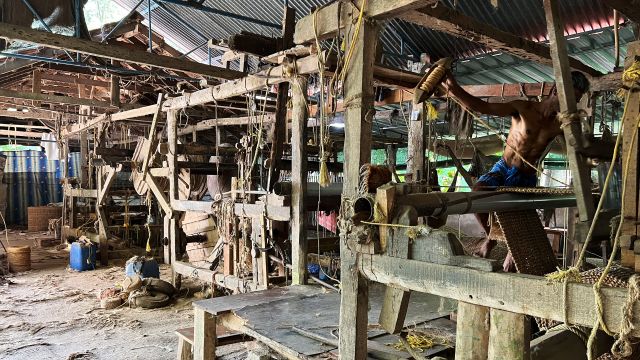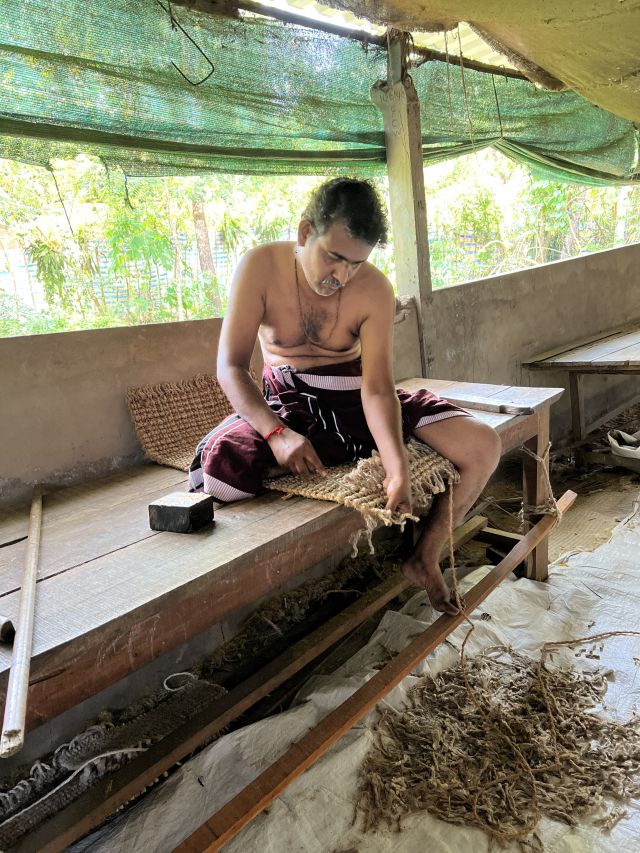 Each individual handwoven jute rug undergoes a process where loose jute fibers are burned away and the surface takes on a significantly higher luster than it had before it was burned off. The difference can actually be seen with the naked eye.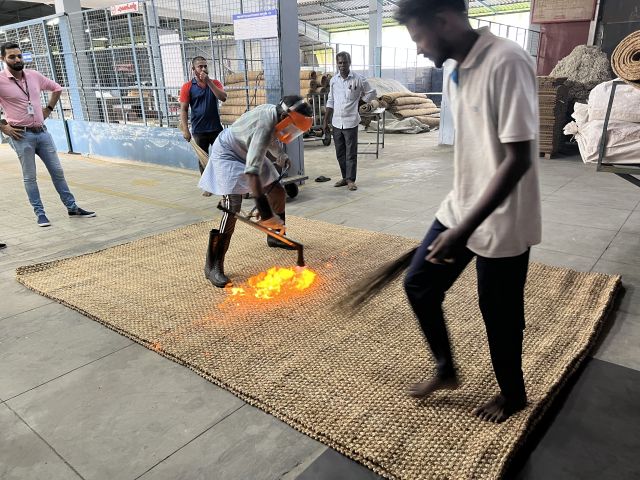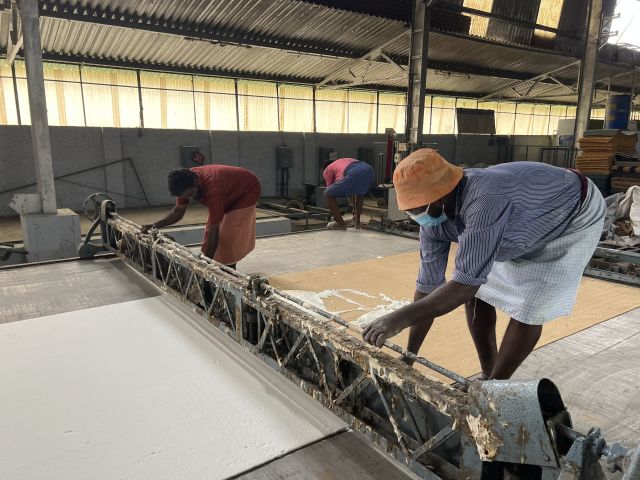 The factory has its own department for quality control. Their job is to locate any fault, identify the fault and also come up with a solution and cost estimate for the same. The department has full mandate to stop deliveries or ship an incomplete delivery if the quality does not live up to expectations.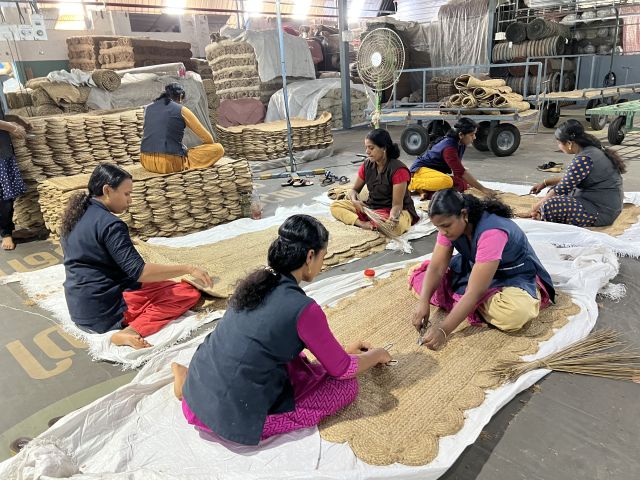 We visited the factory in Kerala where only some manufacturing of the sisal carpets takes place. Most of the preparation, weaving and confectioning now takes place in a larger factory in Tuticorin, which is a few hours north of Allepey. However, the material and quality of the carpets are the same regardless as finished coils of sisal material are transported to Allepey from Tuticorin to be woven, latex coated and made up as required.

We saw the entire machine weaving process that takes place on large factory machines. After weaving, the quality of the carpet is checked lying on the floor and any inaccuracies are marked with deviant thread. The carpet is then slowly rolled up vertically on a 30-metre-long roll, where a number of people correct any weaving faults in the meantime. The roll is moved to a machine that irons on liquid latex. The sisal weave is always 4 meters wide and 30 meters long initially. After latex coating and drying, the finished sisal rugs are cut and hemmed. This is done either with edge tape or so-called "self edge" where the edge is sealed with an extra latex tape.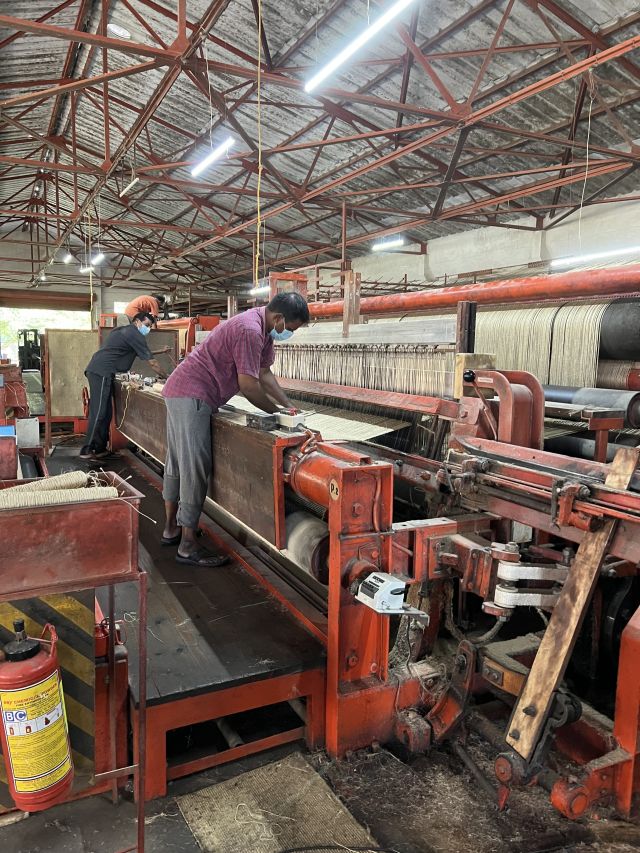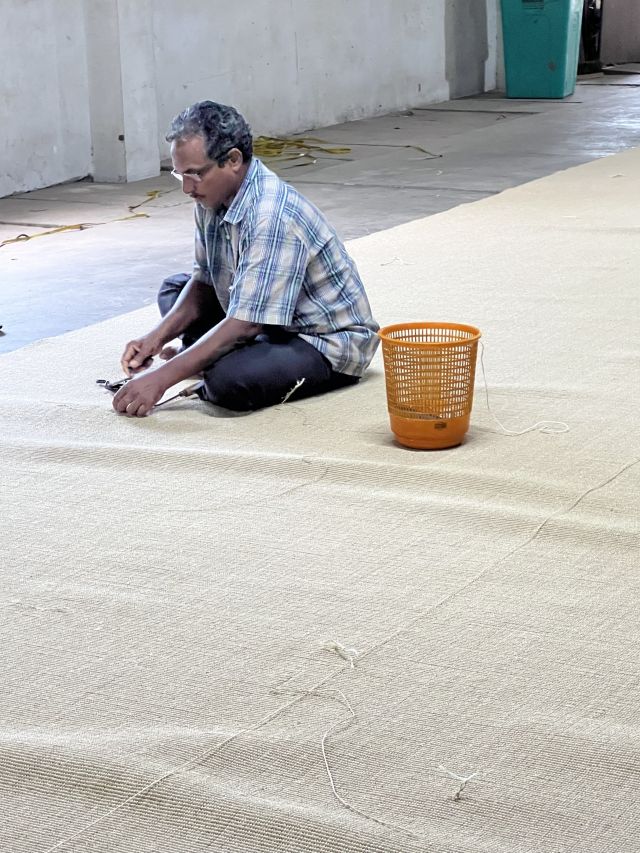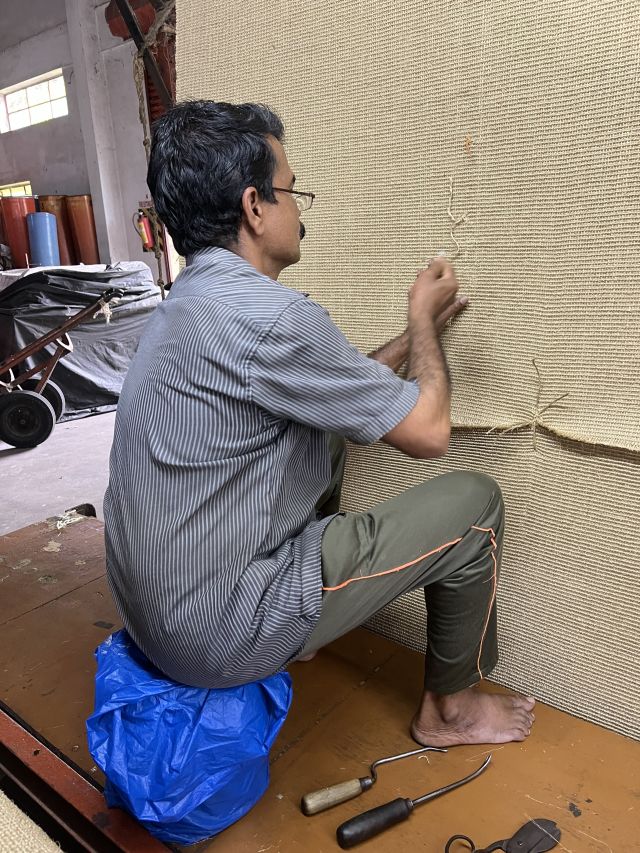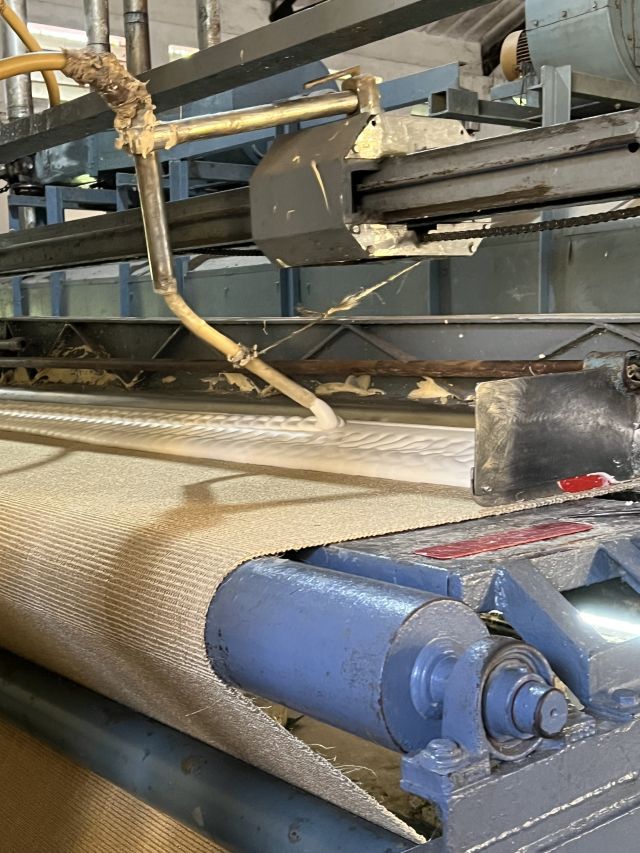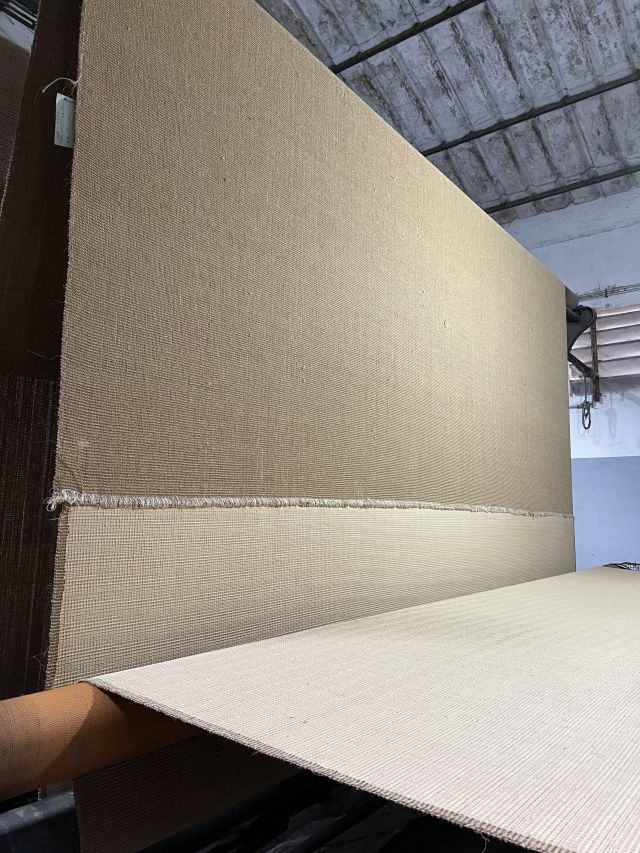 The rubber mats are pressed in a machine between two metal plates to get the right motif and shape. When the mats have a design with punched holes, the backing around the holes is cut by hand to remove any excess material. The production is fully traceable and the rubber mats are being REACH tested every month to maintain quality.